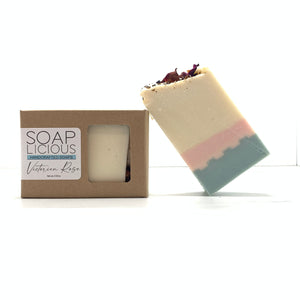 Fragrance:  The aroma of fresh cut roses with base notes of ambered musk.
Please Note:  Our aromatic soaps are lovingly made in small batches and cut by hand into one-inch-thick bars. This personal approach allows for a unique variation in size, color, and weight.
Each bar of soap is made from high-quality, natural ingredients to ensure a long-lasting, refreshing, and cleansing experience. 
Net Wt. 4.2 - 4.6 oz
Care:  To ensure the best experience, keep your soap bars in a well-ventilated area and allow the water to drain after each use. The drier it is, the longer it will last!
We recommend you use your soap within 6 months of purchase as the fragrance can dissipate over time. Please discontinue use if skin irritation occurs. 
Ingredients: Saponified oils Saponified Olive Oil, Coconut Oil, Shea Butter, Castor Oil, Distilled Water, Natural Kaolin Clay Powder, Sodium Lactate, Mineral Mica Color, TIO2, Victorian Rose Fragrance Oil