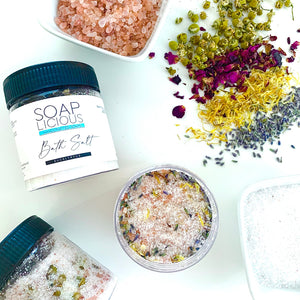 Treat yourself to a luxurious salt bath and escape the daily routine! Your skin will thank you for this soothing and replenishing experience. 
Fragrances:  
Lavender Essential Oil is lean, fresh, and calming. Smells like true lavender and finished with blooming lilac.
Eucalyptus Essential Oil is a refreshing mix of spearmint, lavender, citrus, and a touch of marigold. 
Baby's Breath Fragrance Oil has a very delicate fragrance that contains notes of grapefruit, bergamot, tea leaf, jasmine, peach, lily, musk, amber, and balsam. 
Ingredients: Epsom Salt, Pink Himalayan Salt, Assorted Dried Flowers (Red Rose Buds & Petals, Lavender, Marigold Petals, Chamomile Flowers), Essential/Fragrance Oil